Hello from Germany,
for me with my limited knowledge of your language it is rather difficult to explain what my problem is. But let me try. If there is somebody out there who can put it in better and more understandable words, I'd appreciate very much.
When I removed my soft top for restauration purposes including the top frame, I couldn't find the "drain channel" and the "trim rail". Reason is, when the car was restored 10 years ago by the former owner, he just left off both parts and wrapped the top around the rear chrom rail, so no water could get into the car. Basically not a bad idea, but it doesn't look original. So I bought a new drain channel here in Germany and a trim rail which the top is clipped to at the rear end.
What is called a "drain channel" by Moss Motors (part # 806-215) is actually consisting of a curved middle part of about 60" length and two "drain boxes" of about 8" length, which are welded to the curved drain channel to lengthen it. I call it "drain box" since it looks like a box. It actually extends the drain channel up to the doors. For better understanding of what I mean, I attached some pictures (see next foto)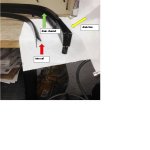 Here is the problem: The trim rail is about 1" longer on each side as the curved drain channel. It extends let's say 1" over the drain box and since the edges of the channel and the box are not on the same level, it looks kind of inappropriate (see next foto).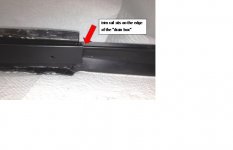 Question: Is this correct or do I have to shorten the trim rail so it ends before the drain box (see next foto)? May be somebody has a picture of this area from his car.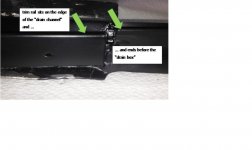 Thank you all for helping!
Lutz