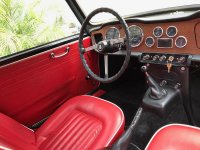 I am having great difficulties posting pics on this forum. These are not the best but all I could do at the moment.
My brother bought the above TR4A new in 1966 when he returned from Vietnam. He drove it for eight years and about 130 K miles back and forth to work at Lockheed Burbank letting it bake in the sun rotting all the soft trim and the top(hood) thereby letting the rain in as well as ruining the paint.
I bought it from him in 1974 when I returned from 4 years working and studying in England. I paid $500 for it which was all I could afford. It was in a pretty sorry state but was a good runner he had never abused it only neglected it. I drove it for another 10 years and probably 150 K miles back and forth to work to Northrop A/C and about. My wife then drove it for another 4 years back and forth to college as an engineering student. She was in her mid 30's and the younger students could not figure out how this lady nearly their mothers age could be driving such a cool car. It has received some TLC recently and looks and drives better than ever in the more than 40 years I have owned her. I will try to post some better pics and by the way the oil spots in the drive are not from her but my 1985 surf wagon Peugeot. Another story.
David Hill