Hi all,
Wintertime has started, so it is time to chase for oil leaks...
In my BT7, I noticed drips of oil on the connection of the tachometer cable to the distributor and tachometer housing (AEC685).
For sure, the fibre washer (Nr. 29; 2K4970) was not leaking, so I suspect the oil seal (No.30; 3H964) in the tach pinion bush (No.28; AEC701).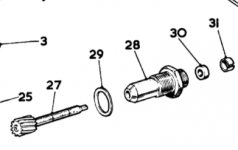 After removing tach pinion bush, I had two questions:
1.) How do I easily remove the oil seal retaining ring (No.31; 1G340)?
2.) How should a new seal be mounted? Flat side to the outside world or to the tachometer pinion?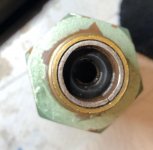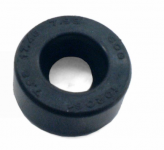 Note that the retaining ring has been pressed fully into the tach pinion bush and that the aluminium plate in the tacho drive cable was screwed tightly against the bush.
Next time I mount these together, I will use an additional fibre washer to overcome irregularities in edges of the two pieces.
Note 2: The picture of the oil seal originates from AHSpares.
Best regards,
Erik