The reality of having 4 antique vehicles & a young daughter to raise has finally settled in with me, paying insurance & maintenance on my 2 MG Midgets & clocking less than 200 miles in the past couple years wasn't adding up, fortunately I have already found good homes for my 67 (going back to a former owner, she bought it in 1979, when she was 15 years old - didn't even have her licence yet !) & the 74 is going to a neighbour who has watched people close to him passing away & he has always wanted one so he said "screw it, can't take the money with me"
As many of us do I have aquired a collection of "extras"
I have a hardtop that would fit 67 & up Midgets, it's painted red, white inside, glass is good, seals are o.k. - I know new ones are around the $1200 mark - what should I expect for mine ? Here it is on my 74 a couple years ago, been stored inside always - I was thinking $600 ?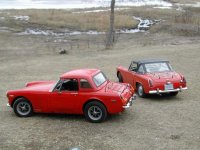 Also I parted out a 1970 Midget - I was thinking $250 for all below ?
Both Doors, boot & bonnet are decent condition, not rotted thru.
Complete Dash with gauges present
Steering column with wheel
Folding top frame
Seats (basically good for frames only)
Then finally I have the following :
1275 motor that is a complete block & head (no carbs, starter etc.), but would need a complete overhaul - I was thinking $50 ?
Wood steering wheel complete with horn ring & wood shift knob - I was thinking $75 ?
And finally a complete 1974 Midget with ownership (minus bumpers ), it has a non running 1275 & ribcase, good parts car, very ambitious rebuild project. -I was thinking $500 ?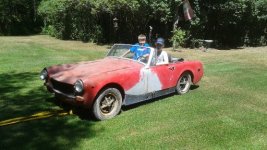 I live in Northern Ontario Canada so my location makes it a challenge for some, but I wanted a ball park idea, just want to price things fair, I hate negotiating, I know some enjoy the banter, myself not so much
Thanks in advance