REVISED 29 JUNE - 1963 LaDawri Del Mar (body only or body & chassis):
Body (only) Price, $1800 or best offer

Body & Restored Chassis, $4K OBO.

From a 20-year slumber in a heated garage in Minnesota.
First plan is to sell the body, keep the chassis - but will consider selling as a package.
Chassis Details:

1963 TR4, solid-axle chassis has been fully restored, painted, and comes with:
- Rebuilt trans and driveshaft;
- New wheel cylinders, pads, shoes and lines;
- Rebuilt rack & pinion and front end; all new rubber bushings, tie rods and trunions;
- New TR4 floor pans included, but not installed.
The La Dawri 'Del Mar' fits TR3/4 and other cars with a wheelbase between 88-92"
This particular example comes bonded to a TR3 tub, which definitely needs some work.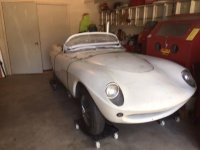 The Del Mar is the model for a small chassis (~88-92" wheelbase).
Complete car only weighs about 1500-1600 lbs, depending on engine.
These bodies were produced in California from the mid-50s until 1965 by LaDawri-Coachcraft, started by Les Dawson; see:
https://www.undiscoveredclassics.com/forgotten-fiberglass/forgotten-fiberglass-generations-1-2-3/generation-2-1956-1970/1956-2/ladawri-coachcraft/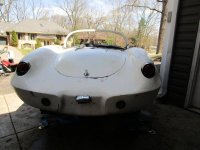 Body Details:


·
New, primed TR floor pans included, but not installed ($450 new)
·
TR3 fuel tank in good shape
·
Like-New
windshield glass (hard to find Vauxhall item) and trim included, but not installed
·
Taillights are '50 Pontiac
·
Needs doors mounted up, uses TR hinges
·
Hood and trunk are hinged/latched
·
Needs some flat chassis adapter plates to bolt to the chassis of your choice
·
Only major holes in TR3 pan at the back of seat area (see pics) – about 4" square
·
Trunk and firewall and door pillars are all solid
·
Upon sale of body only, I will create a wood cradle with casters to easily roll it on to your flatbed trailer.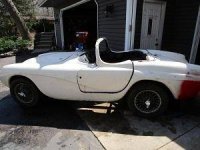 It was purchased coincidentally in Virginia Beach by the PO about 20 years ago, and was kept in a heated garage all this time, having been off the road. The fiberglass is in pretty good shape because the engineer had a two-car garage addition built onto his existing two-car garage; in the back portion he had in-floor heat added when they laid the cement.
For more photos and details, please contact jrbayer3(at) yahoo or 206.715.1264.
Last edited: