Hello Forum members,
I have another dilemma I'd appreciate your input on, especially if any of you have dealt with this before.
Prior to starting any of my major body panel repairs on my TR3A that were done on-frame, I checked the frame squareness following the process in the Bentley book and confirmed the frame is straight, not hogged, and square. Now that I've finished this phase, I pulled the body off the frame and started addressing the frame and suspension where I came across another "surprise" during my restoration adventure (we all love surprises, don't we?).
What I discovered is that the front right rear lower wishbone mount is seriously bent out of position (circled in green in the image below)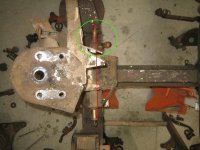 The front pin seems to be mostly parallel to the centreline of the frame although it is positioned about 0.10" inward from where is should be.
This car must have slid into a curb or something low to cause this without frame damage. There is some damage (buckled inward) to the vertical square tube that the wishbone mount passes through as shown in this image (buckled area shown in green) in the image below.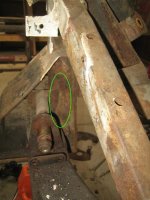 SO, I'm open to suggestions on how to go about repairing this damage. Going with a RATCO frame, which would be great, is not an option - $$$ :fat:
In addition, what is the best technique to measure whether the repair is correct and what tolerance is acceptable. Aside from the centreline of the frame, there doesn't appear to be a more suitable datum as a reference. Referencing the pins to the centerline on the floor is a real pain so I'm open to other thoughts on this. Should I perhaps use the undamaged left side mounts as a reference? Do I just somehow bend the rear pin and take the bend out of it so it is parallel with the front pin (same dimension off frame centerline)?
As always, any suggestions and comments are greatly appreciated!
Cheers!
Ron
1971 TR6
1959 TR3A (in pieces)