Hello all,
Another question on my TR3A restoration.
I just installed the engine with new engine mounts and it was a bear getting bolt holes lined up. It appears the angle of the engine mount attach point for the mount is different than the angle on the frame. It results in a gap as seen in the image.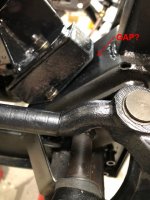 I don't recall having this much of an issue when I did my 6. Is this normal and will the mounts settle in eventually?
Ron