Helping a friend restore his 66 BJ8. Carburetors were really in bad shape so we sent them to SUCarbs.com, Dana Britton. What a mistake. Seriously don't use this guy. The day after we shipped them, my friend found his Yelp reviews, all negative, one star. One person had to get the police involved and sued him in small claims. Lots of negative talk on the MG forums about him. So I contacted him the next day by phone and said we changed our mind, please don't open the box, send them back, we'll pay your shipping cost. He said, no problem, he'll send them back. During the next week, I sent him 3 more emails, so I'd have written proof, pls don't work on them send them back. No replies. Long story short, he worked on them. When we received them, we were aghast at how bad the work is. We took them apart because tumbling media was falling out. We found he didn't take the banjo nuts off, and found the inside rusted as was the screen and full of tumbling media. He didn't replace the jet needle, the pin and spring assembly is frozen closed, most original springs were compressed and weren't replaced, etc etc. Now the battle to get my $400 refund (hopefully Paypal will help and band him), being he's not replying to my emails, text or phone calls. How does he sleep at night.
I've used Joe Curto in NY, but he's booked months out. Can anyone recommend a professional rebuilder? How is Apple, British Car Specialists, Healey Surgeons? Any other company/person?
I recently acquired "The SU carburetor workshop manual" and have studied it. I may be able to rebuild these with the moss kits. However I'm unclear about the throttle shaft parts. Joe Curto has a video that shows on each end of the teflon wrap is split O retainer ring. These rings are not available from Moss. Moss sells the "throttle shaft bush" aka as the teflon wrap, only. SUCarbs has the throttle disc, then teflon then metal tube with a cork seal over that. It would appear that the teflon will misalign at the disc because there is no spit O retainer ring for it to butt up against. Moss does not list cork as a seal. Was cork used in the past? Should it be used? What is used in place of it? See photos of the terrible job Dana did and a photo of the throttle shaft set up.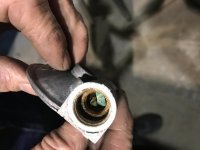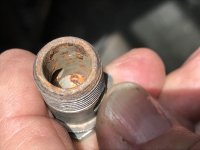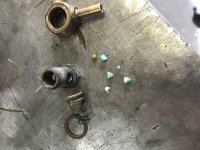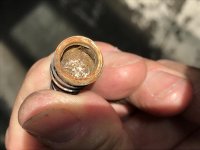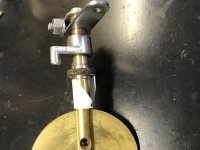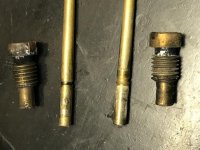 Last edited: