I'm refurbishing the drive shaft for the TR3A and when I pulled apart the spline, the cork seal fell out in pieces.
I checked all the major British car suppliers and was not able to find a replacement. Of course when this happens, the inclination is to turn to the internet where I came across a number of posts on various techniques to make these. I went ahead and ordered a bunch of cork in different thicknesses, some gasket punches (I've been wanting to get a set anyway so this was a good excuse), and scrounged some pipe in various diameters in order to punch out my own gasket.
For some reason, I decided to do another search and ran across Spicer drive shaft dust seals on Amazon. After a little more research and referencing a Spicer catalog, it looks like Spicer PN D2C (cork, metal threaded collar, and split washer) is an exact fit.... so $10.22 and a couple days later my drive shaft is reassembled.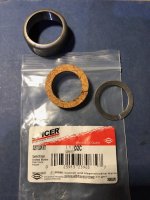 I figure that this information would probably be helpful to post in case anyone else is looking for the cork seal. It might bypass some unneeded efforts to order a bunch of cork, new tools, and also spend a bunch of time.
Ron