A few days ago Michael Oritt posted a thread about being house bound and bored and asking for us to share current Healey issues/problems we are facing.... I have one and I'm stumped.
Be patient, this may take a while....
In July 2013 I had an 'on track incident' which pretty well mangled my 100-6. I started the rebuild at the end of that year but since I was still working, I only had weekends & evenings to work on the car and, like most of us, lots of other "life" to do as well so made very slow progress. I straightened the frame and replaced a lot of sheetmetal and installed patch panels in fenders & doors. I had to rebuild the front shroud with several new pieces (which required buying a TIG welder and learning to TIG aluminum) - that part of the project took over a year all by itself. I finally retired a little over a year ago which means lots more time to work on it. I finally got the chassis primed & painted last spring (a year ago) and just recently got it off the rotisserie after wiring and plumbing, dash & heater, etc. I recently got the rear end & suspension & brakes done and now have the front suspension mostly assembled and that's where I found a problem.
To backtrack a bit, in the accident the steering arm on the steering box was bent and the rocker shaft in the steering box was twisted.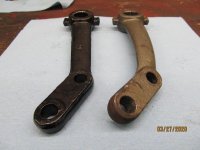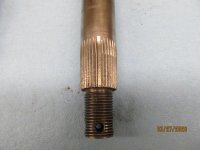 So, the arm on the left is a good replacement and the one on the right as well as the shaft are from the accident - this just shows there were some very large forces involved (the shaft is 1" dia. and not easy to twist). Anyway, I bought a new shaft from SC Parts and rebuilt the steering box (I had a NOS peg & needle bearings I had stashed several years ago) so it is now like new. I found no other damages to the steering box or the front suspension.
I got the suspension and steering assembled and noticed that something is not right - when the box is in the center of it's travel (where the tight spot is) the steering is way off of straight. In fact, it takes about 1/2 turn of the wheel to the right
in order to point the wheels straight. So, here are some pics to show what I'm seeing.


Looking down on steering box to show center of travel. And, it really is the center, the tight spot happens right where it now sits.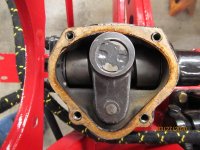 Off set on the front. Showing both the steering box arm and the idler arm and the frame.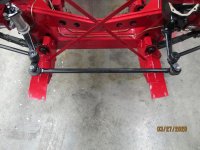 Now two shots directly down on the left frame leg and the right frame leg - gives and idea how far off-set the whole thing is.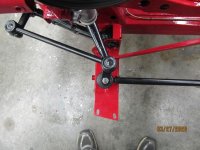 So, I welcome any ideas because I have been looking at this for 2 days. I've disassembled it all and tried two different steering arms and one older rocker shaft with no real change.

I put years into straightening the frame and measuring and checking everything so I'm very sure the frame is straight and dimensionally right and all suspension mounting points are correct. BTW, in case you are thinking I got the arms on wrong, if you look at the 2nd picture you can the splines on the shaft have a large one every 90 degress so you can't be 'off a tooth'.

You may have noticed I removed the springs and have 2" blocks under the shock arms to simulate normal driving positions of everything.

I have my preferred .5 degree negative camber and the 1/16 toe in I like (I should say I had those settings yesterday before I noticed this problem - now who knows what the settings are).

I know there are a lot of very knowledgeable and experienced wizards on this forum and really hope someone has the key to this puzzle. I have more pictures and can take many more if there is something anyone wants to see.

OK Michael, like the old tv show, You Asked For It


Dave
​
​