Thanks to John's tip, I've got the crank pulley aligned correctly with the key on the crank. But now I'm curious about the correct way to mount the hub extension. I'm using a Macy's fan which is a big help with the cooling. I took plenty of photos when I disassembled everything, but unfortunately I didn't get one of the face of the hub extension with the fan removed. Didn't dawn on me that there might be an alignment issue.
Now that it's going back together the fan with the locking plate properly in place isn't lining up with the crankshaft bolt as it did before. With the fan back off I noticed the small drill hole in the face of the extension. It was opposite the hole in the pulley. Looking closely, there seemed to be a slight offset. I then turned the extension by 180 degrees so the drill hole was on the same side as the hole in the pulley as shown in the photo below.
Before remounting everything I thought I would pose the question here first. Is there a specific orientation of the drilled hole in the extension with the key position on the crank, and thus the hole in the pulley?
The manual does mention the 'drill spot', but it wasn't at all clear.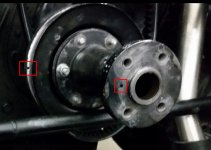 Rick...