went for a short test ride today. car ran and drove well. i am still fiddling with the throttle linkage. the pedal seems to want to hang up just before idle and i have to put my foot under it and lift up. i am going to try a couple of things tomorrow for that.
The drive went well with no shakes. ran up to about 50mph. did not have enough room to try the OD. May need to wait until i actually have the car tagged so i can get to some open road. steering felt fine and was not as hard as the TR6.
i also need to set the toe-in before the next test drive. when i put the front end together i screwed the cross bar all the way in so i know it is toed in right now.
but the engine felt good and the steering did as well. couple of pics from after the ride.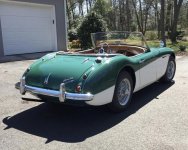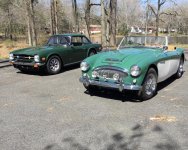 unfortunately even though the tires probably only have about 500 miles on them, they are 19 years old. So i don't want to run too far until i get some new tires.