though i had planned on putting an aux pump in to keep as a back up for long term then getting around to rebuilding my su, i got to excited and picked up a new su pump from a local guy. Replaced and pumped the old gas through the lines and in to a can while i brought up my oil pressure. (Ignition unplugged.) I was feeling pretty good as the needle climbed right up to 75.
Put some new gas in and she started up with little hesitation. Brought a big smile to my face. Soon as the oil was warm swapped it out with some fresh and got in to the nitty gritty details that reminded me why I put the B to sleep in the first place.
Hazards flash quickly at first but within a few blinks calm down and stay steady. lights and brights work but i have no reverse and at best a few random flashes for turn signals. My tach oddly works as a low voltammeter. the needle buries itself when ignition is on. with the starter engaged it will hover around 3 or 4 then shoot back up. with the turn signal flashing the tach will drop to 4 0r 5 in sync with the signal. All things considered the number three fuse seems a likely culprit. The back of the fuse box itself does little to reassure me of its effectiveness. measuring resistance the needle danced very similar to the tach. corrosion seems to be deep in the copper rivets and i have little luck in my attempts to clean them have i found the lucas demon hunting my B? Is a new fuse box in my future?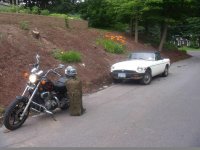 Holy crap after years of fiddling i have actually put a picture on the internet!!!! This is an old shot as i had little hope of figuring this out so i took no new ones of todays progress. That was taken weeks before i put my car away.