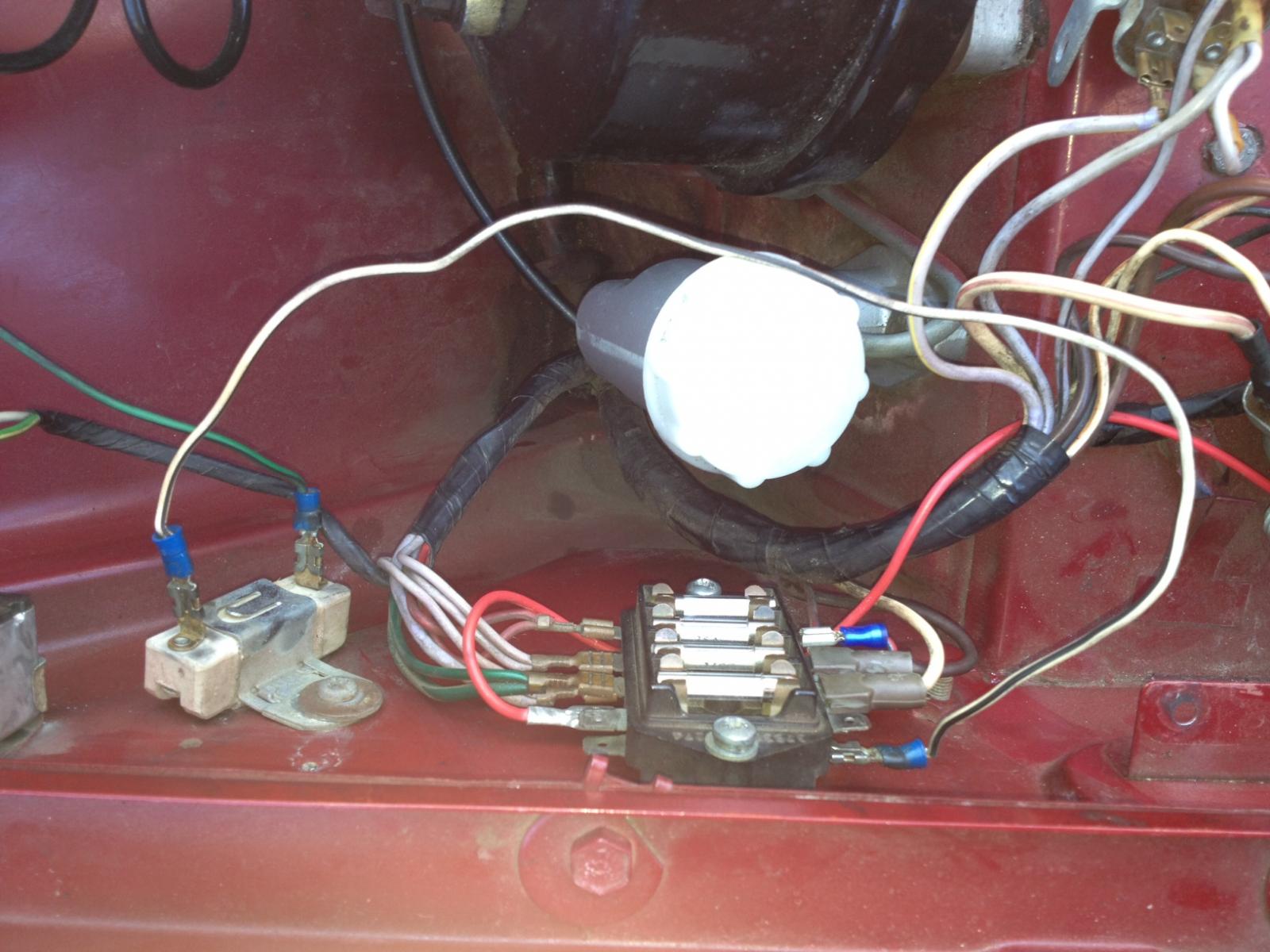 In this photo note the ballast resistor has two wires to it. I will refer to them as left and right. The wire on the left appears to be white with a black stripe. Notice that wire loops upward and attaches to the lower right-hand side of the fuse box. (This wiring does not appear to be original.) Notice, as well, the wire attached to the ballast resistor at the right is green with a small black stripe. This green wire with a black stripe is outside of the wire harness and attaches to the positive side of the coil.
My car has run fine with this wiring....but has been failing to start, especially after a drive and a park in the garage.
My coil has the white/yellow from within the harness attached at the positive side of the coil, as it should. Negative wire from coil to the distributor is
attached, as it should be.
What I am missing is a white and pink wire coming from the ignition switch, as is shown in my Dan Masters reference on wiring. It seems I should have the yellow and white and the pink and white at the positive terminal of the ignition coil.
Is this present wiring working as a 12 volt non-ballasted system because it is wired weird, or is it wired outside the harness with wrong colored wires, but still wired to work properly as a ballasted 6 volt coil?
Testing with an ohm meter has suggested that the coil is putting out less than the 6 to 9 ohms expected. I am getting between 5.3 to 5.8 at best.
I have some suspect that improper wiring is ill-affecting the condition of my coil and points and causing the car not to start.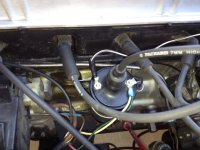 This photo shows the white with black stripe attached to the negative side of the coil to the distributor. On the positive side of
the coil is the white and yellow wire as well as the strange green with black stripe wire. Note: The wire colors are difficult to recognize as they are old and faded. Any help is appreciated.