Making some progress on the Works Rally Side vents on my current 1963 AH BJ7 project ... what I'm calling the Blue Project. This one will be a bit more visually like the Sebring Healey... so, yes, blue.
Some of you will recall my red Works Rally Tribute car. A distinguishing style item on most Works competition cars after about 1960, was side vents. It's fairly obvious that the side vents were added to evacuate the under hood heat on the Works cars... this has been documented in any number of period AH books. So, while not available as an option on customer cars, I suggest they are "period correct" for an AH.
When I was in the UK many years ago, I visited Johnathan Everard at his JME Healeys shop at the old location of Leamington Spa. During that time, he was maintaining the ex-Pat Moss Works rally car for a local privateer client. He kindly let me take a rubbing of the side vents on Pat's car. Those are the patterns that I use to have my side vents fabricated. The commercially available side vents are a bit larger. At any rate, the side vents have now been fabricated, by the talented Brad Aregood in Denver, and now they will be installed in the fenders.
I should note that Brad also did the Works oil cooler ducts, as seen on the Sebring cars. I got the patterns for those from my friend Steve Norton of Cape Int'l.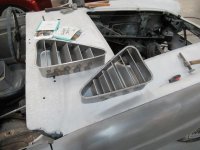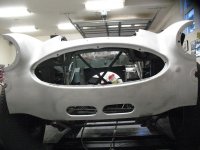 Steve