ok i bought a partly disasembled 1969 mgb. i have rewired a midget before. i have the wireing charts , and i can look at the wires in my GT for guidence.
but i have these two paird wires of green, green/light green, i thought that the green went to the volatege stabiliser thingy and came out as G/LG ???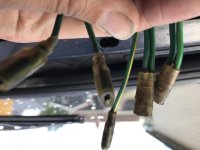 i have found the empty bracket for the Volatage stabiliser but no wires from the harness near by.