Hi folks - I've been a member here for ten years but haven't actually posted anything so hope I'm not breaking a rule somewhere.
I have an Austin Healey Sprite that I've been driving around for ten years and have decided to embark on moving it from "barely drivable" status to something a bit more acceptable. One rather obvious aspect of this is the wheels. They are wire wheels that were painted white some time in the past, presumably to hide the gruesome amounts of rust that had accrued.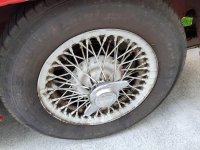 Does anyone have any idea of what my best approach is to making these shiny again? I have a funny feeling the answer is going to be "throw them away and buy some new ones" but I'd rather be told that now than a few weeks down the line when my kitchen table is covered in lovingly paint-stripped but entirely un-savable spokes.
Chris