Hello,
I'm hoping someone can identify this starter. It was on my 1960 BT7 when I bought it in 1887 and I've used it exclusively on every Healey motor (including race motors) I've had since then. I don't have a way of knowing for sure but I'd guess at least 150k miles and it has never let me down. Probably the best starter motor I've had on anything I've owned.
I've always known it looked different on the outside but, since it worked flawlessly, I never opened it up before. It still works perfectly but since I am doing a total rebuild of every system and I could feel the bushings are getting a little loose, I decided to open it up and do a rebuild.
I was very surprised at what I found. The commutator is not like any I have ever seen - the brush springs press the bushes parallel to the armature shaft rather than 90* to the axis of the armature like normal. You can see in the pictures that the brushes are totally different shapes and not like Healey brushes. The commutator end shaft of the armature is smaller in diameter than a normal Healey starter so it would use a different bushing. At the other end of the armature there is no nut holding the bendix on like a Healey but rather a snap ring in a special collar (obviously I need to figure a way to compress the bendix spring enough to get the snap ring out....).
Clearly standard Healey bushes and brushes won't work so I need to identify this thing so I can try to get parts for it.
On the outside of the body of the starter the following numbers are stamped:
25631B 50 71
2M100 arrow 12V
1st pic - side by side with a 'normal' Healey starter to show visual difference of commutator end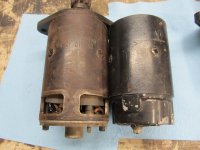 2nd pic - the markings I noted above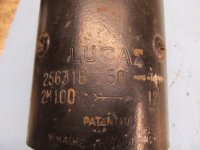 3rd pic - commutator and brush holder end piece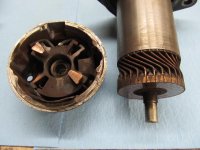 4th pic - the snap ring and collar where a nut and cotter would be on a Healey starter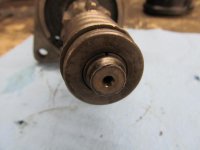 Any help will be appreciated.
Dave