I am just a paycheck away from putting a battery in my 1980 Spitfire (Federal). I've installed a Weber DGV carburetor. I got the radiator bracket back from the fabricators, and it's a perfect fit. (By the way, if anybody needs those radiator brackets, I have the plans for them.) I've put on the Hayden fan, and I should be able to wire that up without a hitch (thanks to everybody who helped me with that). But I still have a few things I can't figure out.
OK... I still can't figure out how to keep this program from rotating my pictures, but I can work around that. That's the carburetor. See the tube just to the right of the choke? The folks at Redline told me that was the vacuum advance, but since I don't have a vacuum pump (yeah... try finding one of those), they said I could just plug that up with a small rubber "cork." Is that correct? Or is there something better I can do here? Moving on...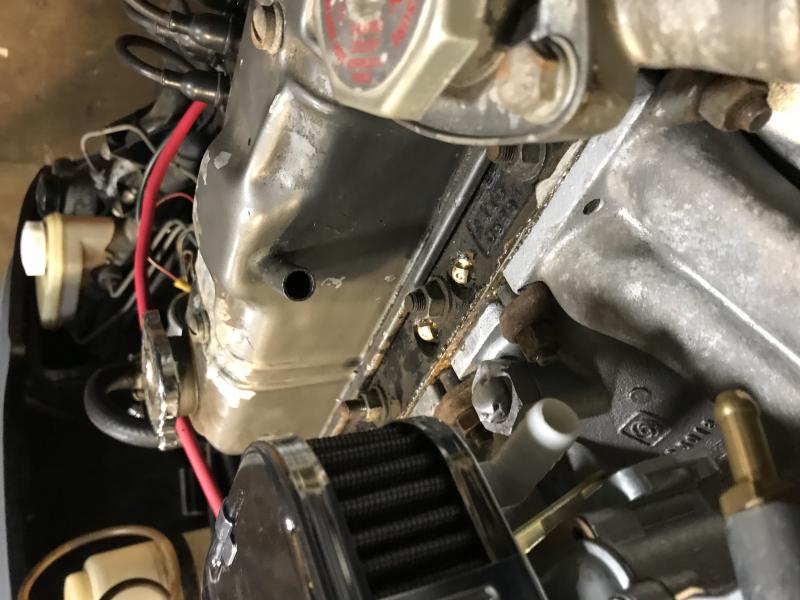 See that tube coming out of the rocker cover? I think that originally went to the carbon cannisters, but I won't have those, either. Regardless, should there be a hose on that, and if so, where does it go?
And, finally (this time without pictures), there is a gas return tube on the carburetor. I asked the tech folks at Redline about that, too, and they said that I could just plug that, so I used the plug they provided. However... (there always seems to be a "however") ... there is a vent hose going from the gas tank to a carbon cannister (which I have), located in the back with the gas tank. Then there is a line going from that cannister heading to the front of the car. Only it doesn't get there. It stops about half way, leaving the end of that line open. I think that it originally went to the front where it hooked up with the carbon cannisters there. Like I said, there are no carbon cannisters up front anymore, and there's not going to be. So do I need to do something with that hose? Could it be the gas return? Do I need to plug it? Or does it need to be left open as is?
That's all I have for today, but that's enough. Thanks already for your help!