Esteemed Collective:
Has anyone installed a vacuum gauge port on their TR3A intake manifold? I've been thinking of trying my luck at tuning using a vacuum gauge, but don't have any access into the manifold. I really don't want to install a fitting on the manifold in a place (like the top) that spoils the nice looks of the manifold in my engine compartment. I'd be willing to drill and tap and install a fitting under the connector log between the carbs. I suppose I could plug the port with a pipe plug after use, so it wouldn't be so conspicuous. Any thoughts on this? Anyone use a vacuum gauge for tuning?
Thanks for any ideas.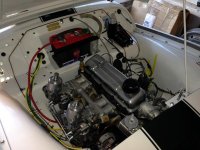 Pat