Hi everyone,
I was excited a little while ago when I found and purchased a twin Weber DCOE 40 kit to replace my tired leaky Strombergs. The kit was purchased directly from Pierce Manifolds who took over design of TWM manifolds, and who is a massively large Weber distributor / tuner extraordinaire.
I got my car out of storage to find that the inlet manifolds were significantly interfering with the stock cast iron manifold. I first thought it was my header wrap, so I removed the wrapping, only to find it still wouldn't fit by a long shot due to clearance issues on the inside two cylinders. Here are a few examples of fitment issues with the inner runners: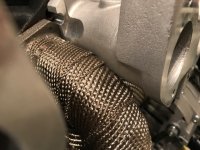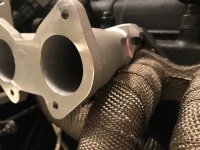 So, my thinking is, I got Webers, maybe I need to buy a header as a sort of "price of admission". Turns out, very few people seem to be able to assure me their headers will be compatible with the oversized TWM inlet manifolds. I've tried BP Northwest, Rimmer Bros, TSI etc... And whats more surprising is that the manifolds don't even have enough clearance for the factory clamps which clamp on both the inlet/exhaust manifolds, the solution is to use hex/allen bolts with large washers which in my opinion wouldn't feel adequate: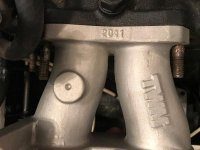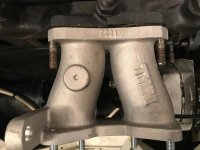 I have only found one thread so far which indicated that the only inlet manifolds known to be compatible with the stock exhaust manifold is the CANNON manifolds. Fellow user
Darrell_Walker posted a thread about his findings
and seems to conclude that the TWM kit, as sold by Moss/Pierce, MAY fit with the Moss header.
At this point I am sharing this to share my experience with others, and hopefully, to find someone out there who might have some advice on how to successfully get these modern 'TWM' manifolds fitted on a TR3/TR4. I'm really having a hard time shelling another $500 for a header which will still have clearance issues with the Cyl #1 tubing.
Any wisdom or experience would be welcome, if not, maybe this thread will be a warning of the "fitment" of the TWM kits...
Last edited: