A few years ago while I was recovering my the interior panels of my TR3A, I found a hidden message to future owners written in pencil on the drivers rear dogleg panel. I've left as is and recovered over it.
But in recent weeks spurred on by all the fires, I remembered it. The message was left by Tom Tanner of Paradise, California.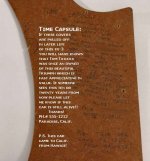 Tom if you are reading this or hear about it, your old 58 3A is safe and doing very well. I hope that you and your family is safe.
(I called years back and talked with his mother about the car)