Since I've just bought a beautiful restored original steering wheel for my '67 BJ8 I thougt it would be a good idea to pull out the steering box to take a look at all inner parts for damages and wear. Because it is still fresh in my mind that my brother had a severe accident in a MG TD far back in the sixties, due to a failure in the steering system.
It turned out that for instance the bearing races in the worm gear (not the ones one can remove from steering housing) show scratches and wear (see foto), while the surface of the worm itself seems to be OK.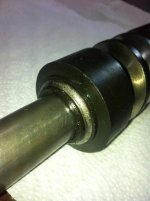 Is there any chance to get the race remachined, since you cannot split the worm from the column and if so, what would be the right kind of machining (spray welding etc.?)
I still have some further questions, which I will come up with later!
Lutz
(Mainz, Germany)