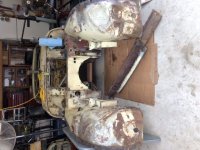 Greetings All,
I'm in the market for some sheet metal and looking for reviews on Moss vs TRF or other vendors.
I learned "from this forum" that the battery box from TFR is superior to Moss's, so that's where I'm going for that.
Now I need floor pans, outer sills and possibly front inner fenders. Any suggestions in that area?
Im aware of the price difference, within a few bucks but quality material and fitment is very important too.
I say "possibly" on the inner fenders because my are only in ROUGH shape from the shock towers forward.
Thanks All, she's coming along.
Joe in TX