Hi guys - hope everyone is having a good Superbowl Sunday. I took a break from making a copious amount of guacamole to play with the '66 TR4 and the "new" donor engine to see if I could get it fired. It did fire and oil pressure came up (not a surprise as I had oil pressure when cranking it with the plugs out) but I immediately noticed some not so encouraging exhaust escaping from the top of the engine.
This engine is not fully set up as you can see from the picture below, and isn't even running a cooling system now since I wanted to make sure it fired briefly without any bad noises etc before spending any money on it (obviously I'd not running for more than a very short time without the cooling system working). The thermostat assembly is loose fitted and the heater hose assembly is off. When it fired I noticed smoke coming from the heater hose opening and from the thermostat assembly area after it ran for about 20 seconds. Specifically, there was wispy smoke from both areas where the red arrows are pointing that was venting out as it ran.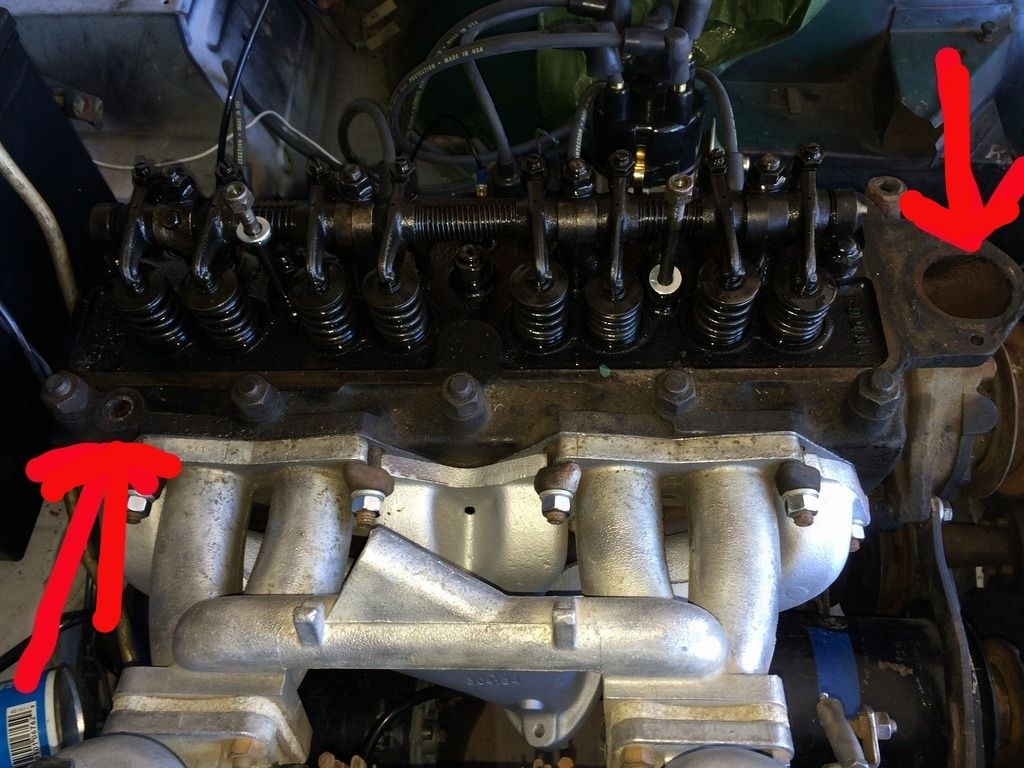 This engine has sat for a long time so I don't believe there is any moisture that would of been evaporating from the head. Maybe being run after sitting for that long stirred some stuff up I supposed, but without the water pump spinning there wouldn't have been anything moving the air around except heat.
So it would seem that exhaust is getting into the cooling system, which makes me think cylinder head or head gasket, what do you think? Ideas?
Thanks guys!