Hi All,
I recently acquired a set of seat covers for my BT7, which I bought when I lived in Houston 30 years ago and repatriated to the UK 26 years ago. The car has vinyl seats which have been on the car as long as I've owned it, and I wanted to replace them with leather seats with some real patina. These covers came from a BN6 and I'm trying to decide if they are original covers or not. One of the covers looks original and other one looks like its has had some significant repairs.
Both of the seat back covers have an unusual black (wool?) strip along the lower part of the rear vinyl facings. Is it possible that these the original rear vinyl facings? I have not found any photos of the original rear facings in any of the obvious sources (Anderson and Moment and the Originality Guides) and they don't look like the ones AH Spares currently sell. I am guessing that the repaired one has had the front facing and piping replaced at some time.
Has anyone come across any seat covers that look like this before?
Phil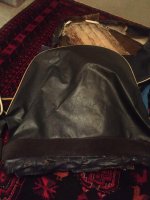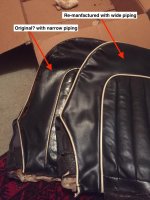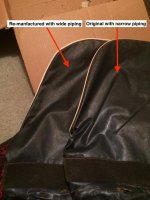 ​
Last edited by a moderator: