For several years I have had problems with atrophied calf muscles and problems from diabetes. Because of this I have been searching for a solution to make the clutch easier to operate. Even looked into the possibility for an automatic transmission. I have found a way to reduce the clutch pedal force by about 1/2.
Well here it is! A hydraulic booster that uses manifold vacuum just like the brake booster. The difference is that it is activated by plumbing the clutch master to the in fed line of the booster and then the out line to the clutch slave. And it works. I have included some photos of the booster and hydraulic lines.
A few vendors sell them and this is the one I purchased. No particular reason other than I happened to see it while browsing their on-line catalog.
www.bpnorthwest.com/mg/midget/brake-serv...7-inch-1-9-to-1.html
I am not selling kits or rights to use or anything like that. It is simple and straight forward to install by any one with a modest mechanical ability. This is too important to those than would benefit for me or anybody else to profit from it. So this free, and like open source software can be used, developed, and improved by users.
Although I inatalled this on my TR6 I am quite sure it could be applied to any car with a manual transmission and enough room for the remote booster.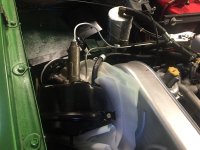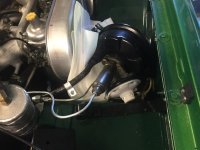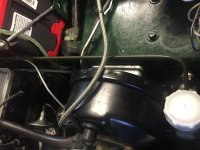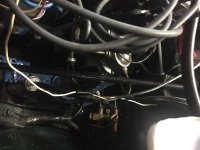 From the photos you can see where I will mount the servo. In turn the bottle washer will be moved forward to the area in front of the wheel well. It is not yet mounted simply because until a few minutes ago I was not convinced it would work.
Enjoy,
Tom