Hi, I will try to keep this as short as I can. I am finally ready to blast, prime, seal, and paint the chassis. It has taken me about 5 years of part time, whenever I can get to it, work. But all cancer and bent metal has been dealt with - new sills, parts of the outriggers, new shut pillars, new floors, etc. The outer body has new patch panels in doors, boot lid, wings, new nose pieces in the front shroud, and all has been rough fitted to the car and removed again.
Now I have started blasting to get ready to prime & paint the chassis (most of the chassis was blasted about 10 years ago but has some light surface rust). I have done lots of reading over the years but am still unsure about the next steps.
My original plan was to blast, blow all dust off and spray an etching primer followed by a good 2 part urethane primer. Then seal and paint - simple enough, right? My subsequent reading says I still need to 'wash' the metal to make sure dust and oils are fully removed - I had mistakenly thought blasting would leave the metal clean enough for painting. Also, some don't recommend urethane primers over etching primers....
I can't 'blast in the morning and prime in the afternoon' simply because I don't think I will all that quick blasting and the rust bloom can be nearly instantaneous. So I was thinking of using Dupont 5717s and 5718S metal prep system for the bare metal after blasting. This is a phosphoric acid etch cleaning system that requires washing the first application (5717S) off with water. Couple of difficulties - this would require rolling the rotisserie outside (I have a gravel parking lot that won't be friendly to the 4" casters on the rotisserie) since my shop does not have a sloped floor or drains. Then there is the questions of water on all that freshly blasted metal - how well can I dry it and what kind of new rust bloom problems do I have? On top of that, how many hours will it take to scrub and brush all that metal in all those nooks and crannies? If I do this it might take days to get ready to prime after blasting.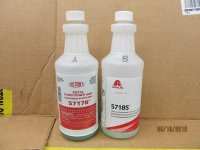 I also considered Eastwood's bare metal etch but it requires wiping down all the metal until your rag stays clean, according to a youtube I watched - again, a lot of time consuming and difficult work.
I have read so many conflicting opinions/methods that I am really not sure how best to proceed - bodywork and paint is not something I have any real training or background in, but I am in the "do it yourself, you will be glad you did" school.
I'm hoping some of you have done this as a DIY project and have any suggestions? I'm not looking for shops because I can't afford to pay someone else to work on my toys.
I must admit, I am close to full circle and back to considering just blowing all the dust off after blasting and prime it.... After all, it only needs to last me another 15-20 years or so.
Looking forward to a learning about how some of you have solved this problem.
Thanks in advance,
Dave