Lilly up-date
progress continues on Lilly. it is slow. Nothing wants to come out easily. each bolt squeels with pain at the slightest turn. it is certainly an education. hope to get the last parts, i want off, removed this week and then start the cleaning process under the car and in the engine bay.
then it is on to cleaning and painting old parts as i put them back on. except for the ones i need to replace. That is when the fun... and my questions begin.
until then floor space is getting limited...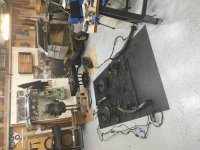 Also worked on a dolly system in case i need to take the car off the lift for a while.