so i got her started. first time in 15 years i believe. my goal was to get it running and run it at about 2000 rpm for 15-20 minutes. all new valves and springs, etc. So i did accomplish my goal.
it wasn't a real success all the way around however.
don't know if i posted before but i first pulled off the oil line to the gauge until i had oil come out. then in a few cranks i got the oil pressure up. next before i put in plugs, i wired up the fuel pump and pressurized the fuel system.... first problem. my front carb had a sticking needle valve. so i pull that out and blew it out with air. put it back in and problem solved. good so far...
i could not figure how to get it timed (pertronix) so i set it close and just went with that. went thru my check list one more time; got out my fire extinguisher; made sure the garage door was up and nothing behind me in case i needed to back it out; and then double checked all the fluids.
all looked good so i figured.. what the heck... and i hit the starter button. i was getting some fire but it had that sound of wrong compression. once before i had that with my dad's model A and we had the timing off. so i advanced the timing and tried again. it took a few tries but then it fired up. the engine ran right up to 2000 rpms and stayed there. i pushed the choke off but it did not change. i only had the idle screws turned one screw in but i tried to back them off a 1/2 turn. no change.
i wanted to run it at 2000 so i let it go as it was and just kept an eye on the temp gauge. at about 190 i noticed some drips of something on the fender. i looked down and the thermostat housing was starting to leak... well not really starting, it was leaking. i was about 10 minutes in to my run so i tried to hold a rag there to keep the fluid from blowing everywhere. fought thru it for about another 5 minutes and by then the temp was approaching 200. i figured that was enough and i shut it down. put more rags around the cover and decided it was time to go sit on the front porch in the rocking chair and have a cigar.
don't under estimate the power of a good cigar.... after about 15 minutes, it hit me... i bet i did not tighten up the vacuum line on the distributor. i bet that thing was sucking air like crazy. sure would explain the high RPM. dummy. too excited hearing it run to think i guess.
after it cooled (and i finished my cigar) i went out and pulled the cover off the thermostat. i knew it was sketchy at best since it was pretty corroded. So i have ordered a new one.
good things: i held 60 psi oil pressure for the whole run. i did not see any oil leaks with the engine. i saw no leaks around the head gasket. no traces of oil in the anti-freeze / see below and oil looks good as well. it ran very well, albeit 2000 RPM. i did slow it to about 1000 with the timing before i shut it off.
bad things: well the cover of course. although that is an easy fix. i brought in the thermostat to make sure it was opening all the way by placing it in a pan of water on the stove. it was new but you never know. i also have a leak at the radiator drain tap. i bought a new one from Moss. i did not use their plug in it and yes it leaks. if i wanted to use a plugged one... why not just use a plug. does anyone use a different brand tap there that holds? i have since put my old one back in.
So it was semi-succesful. i wanted to set timing anf the carbs but never got to it. i have Pertronix and was reading about trying to static time... they are not to be used with solid core wires. That sucks. So i also ordered a set of points and a new condenser with my cover. they are realatuvely cheap so i am going to put them in and see how it goes. really i don't drive that much. Maybe just keep an extra condenser in the tool bag.
so that is it for now. i still have some oil coming from the O/D lever on the side of the tran and have also noticed now a little oil coming from the front of the rear diff. both things i did not touch, other than to paint. the tran was a rebuilt one never used and the diff was supposed to have been gone thru.
i have capped the vacuum line so it will not be a factor next time i am ready to fire it up. need it capped to set the timing properly anyway. then i can uncap and make sure it is tight. or at least isolate if there is a vac leak and where it is.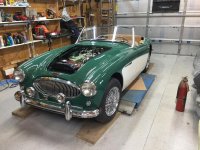 note the fire extinguisher... think i was a little nervous....