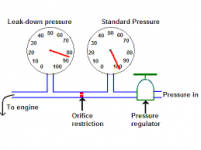 Quick tip for anyone who is inclined to buy or already has a differential pressure cylinder leak down tester. Unless you have a kit that comes with the required 14 mm spark plug bore adapter you will need to make one. I've had a tester for the last 40 years but never got around to checking my compression with it until recently, just never had the adapter as the aircraft engines I got the tester for all have 18 mm plugs.
My direct compression test gage bit the dust ( or should I say turned to dust) and led me to believe I was in dire need of engine repair so I figured it was time to use the leak down tester. I stole the spark plug out of the gas powered leaf blower that was given to me but never used ( what is the point of moving leaves around anyway?). I figured it would be easy to gut the plug by drilling it out and then just weld a male air fitting to the end of the shell. I don't know what is in those things that is so hard ( besides a bit of ceramic) but after smoking a few bits I finally got it reamed out and snapped off the shell electrode. Seeing a half used tube of JB Weld on the bench I opted to weld with that instead of trying for an airtight fitting with the mig welder on such a small part. Worked like a charm.
I was pleasantly surprised to record 76/80 for 3 cylinders and 78/80 for one . That is a 5% leak down and it was small enough that I heard no hissing from the exhaust pipe, air cleaners or crankcase via listening at the oil filler on the valve cover (of course the hearing isn't quite what it used to be). Bonus was the JB Weld was plenty strong enough and I didn't lose an eye during the process. The test gage set is available from about $30 to $300 and I think the differences are in the gages and the quality of the built in regulator. For those who aren't familiar, I've included the diagram showing the concept. The inexpensive sets certainly work and you can always put good gages in them. If you Google the size of the standard orifice it would not be hard to make a tester from scratch. For all the nervous Nellies out there it gives great peace of mind if you get good numbers and is an excellent diagnostic tool if you have marginal numbers. Standard for pulling an aircraft engine cylinder was 60 to 65 psi over 80 but there can be things you can do on the spot that may raise the reading, like whacking a valve stem to better seat a valve.
A couple of useful tips : An aircraft engine has a great big lever on it called a propeller, which you use to rock the crank back and forth to get right on TDC, which you need to do so the piston doesn't move, which would in turn cause the valves to open as during the end of a compression stroke. You can load the cylinder with 20 or 30 psi of air pressure while you securely hold the prop and then move in the direction of rotation until the downstream gage peaks and the prop doesn't want to move on its own; there you are right on tdc. People have died or been severely injured by letting go of the prop at the wrong time when they were in it's path You can't do that with a car engine and believe me you don't want to try like by putting a wrench on the crank nut....you WILL get hurt. What you can do instead is get the piston on the compression up stroke by hooking up the test set and again, running 25 or 30 psi into the cylinder. By beeping that great little button on the back of your starter solenoid you can bump crank the engine ( all spark plugs removed) a few times until you see the down stream gage hold pressure and then you know you are at tdc and there is no movement. It takes several tries but once you get the hang of it it just takes a few seconds for each cylinder. No TDC indicator or large wrench required. And yes, there are some projects I'm trying to avoid today....
Last edited: