Been doing some work in my master bath and closet and needed a couple of new tools.
As I mentioned in
my last tool thread
, I like buying US made tools. Actually, I'm happy to buy well made tools from other places too. But I have a soft spot for American industry. And I definitely try to avoid offshore made products whenever I can.
To me, offshore means made by shipping jobs somewhere to avoid first world wages, labor practices, social responsibility and environmental protection. So while places like Japan or Sweden may be oceans away from here, I consider them "onshore."
The main thing I needed was a putty knife, specifically the stiff kind with a metal tail cap that you can pound with a hammer to separate trim molding.
Putty knives are plenty easy to come by. Poundable ones, a little less so but still common. American made ones, not so much.
Depot, offshore. Ace, offshore. Paint shop, offshore. OSH, offshore. OSH was blowing out some US made Craftsman chisels so I snagged one of them. They had some UK made chisels too.
Lowes, Score! But...
Lowes sells
US made putty knives from Warner
. So they're my go-to place for putty knives. They have a good general selection but not the one I needed most, 1-1/2". Thank goodness for Amazon. But I would have to wait a few days.
The other tool I needed was a screwdriver I could pound on. Of course pounding on a normal screwdriver is tool abuse and even though you can theoretically abuse "guaranteed for life" tools and trade them in when they explode, I won't. The tool companies know that too so maybe that's why some of them make screwdrivers with solid metal cores and tail caps that are designed for pounding?
Depot had two, both made offshore. One was from a big American name company that has a habit of buying US factories, shuttering them and shipping production offshore. And the other from another American name company that's no longer American, but now wholly owned by and offshore manufacturing conglomerate.
OSH had no poundable screwdrivers.
Lowes, score again! Sort of. But I didn't.
Such Irony in steel. Every other Kobalt tool I've ever picked up was made offshore. But I've finally found a couple that aren't. Their poundable screwdrivers are US made. Whoo-hoo. I guess some big box store tools actually need to be made well, from higher grade materials.
And yet, as much as I was glad to see that, I wasn't crazy about their design. They aren't bad, not at all, just not as nice as my other option, Euro made poundable screwdrivers.
Some of my absolute favorite screwdrivers are from
Wera of Germany
. Their
poundable screwdrivers are really sweet,
and not much pricier than the Kobalts. I couldn't resist. I went Euro. But again, I had to order them and wait a bit.
I'm a little conflicted on the Wera, but just a little. I didn't buy a perfectly good US tool. Although I like avoiding giving my money to Kobalt in general, it would have been nice to support the cause. And the Wera are actually made in the Czech Republic, not Germany. So the company is sending the work to a lower wage country.
But the Czech Republic is a beautiful place with a rich culture and nice people who may make a little less than some of their western European counterparts, but aren't living in ghettos filled with toxic waste and selling their children into slavery, either. And I'll bet Wera didn't shutter a German plant to move there.
The final tool in this round is a nifty multi-purpose plumbing wrench thingy
made in the US by Superior Tool, a Basin Buddy Faucet Wrench
. It fits a number of different plumbing gizmos. But be aware, there are offshore knock-offs out there. If you want one, be sure to get the real deal.
No more typing for now, I have pounding to get to.
pc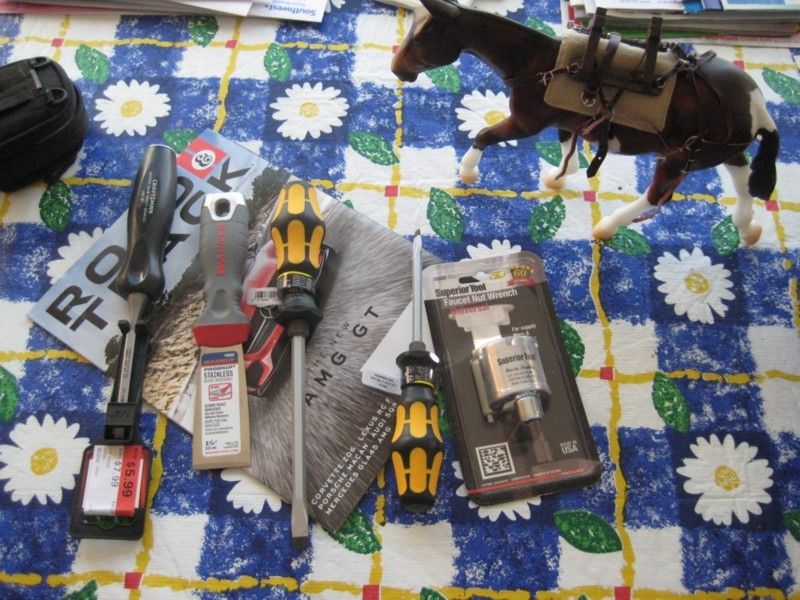 Last edited: