Moderator
Staff member
Silver


Happy Father's Day all! In my world Father's Day and my birthday are very very close (this year Sunday & Monday) so, it becomes a festive couple of days. This year I was able to celebrate with golf clubs/ golf shirt/ Beer gift card/ Comedy Tickets (Lewis Black - hurray!) and from my daughter some tools (which is why I mention it here)
First off (Birthday) a watch repair kit - which is mostly for replacing batteries and straps - I have small watch collection (inexpensive) so batteries and straps are regularly needed.
Then, for father's day, two things.
1. Bench cookies (pucks) - rubber on both sides to keep work from sliding.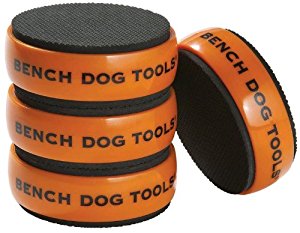 and, 2. 1-2-3 precision blocks. These are blocks exactly 1 inch by 2 inches by 3 inches - that weigh a pound - and are designed as measuring blocks, again for workbench work. They also have holes to bolt down and even threaded.
what I love is that I had no idea that these thing even existed - Darling daughter is very much into prop making so, watches many youtube videos and these were mentioned. very fun and very cool!