Inaugural 2020 is all about amazing mountain roads that are wide open for your fun on
Saturday morning. Six hours of free zones and lots of checkpoints, TSD style. The Richta
Rally app takes the work out of it and maximizes enjoyment. Prizes for Inaugural leg,
Sherman Oaks leg and Banana leg. Don't miss this one! February 22, 9 am, behind the Bank
of America at 10300 Sepulveda Blvd, Mission Hills, CA 91345. More info at SMSCC.ORG.
This event is sponsored by Santa Monica Sports Car Club and SCCA.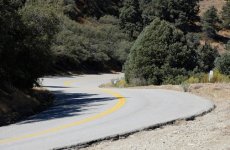 Can you name this amazing road?