When I moved the car out of the garage to finish the work on the OD I noticed a wet spot on the garage floor. It was antifreeze from the engine block drain valve.
It was replaced when I did the engime a couple of years ago. Called TRF to order one but they said they were out of stock and could not get any because of quality issues. (Leaking after 2 years?) I do not know where my one came from but plan to plug it up leaving the drain valve in place to look original. It is just about impossible to reach if you have the carb hear shield fitted.
While looking for my spare valve I came across these. Got left off when I installed the engine last time.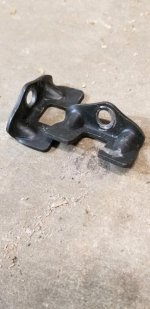 As I have to remove the engine mount bolts to fit the brackets I plan to try to scoot the engine forward a fraction as the yellow plastic fan is almost hitting the cross tube.
David