Jedi Warrior
Gold


I had posted about the front body mounts before and had put it aside for awhile. I went back thru the comments from that post and went back and tried to pull the driver side mounting holes into position along with fudging the passenger side holes to try and find a happy medium. All I was able to do was move the problem to somewhere else. If I got the holes to work it threw the inner sills off along with the floor pans and the transmission cover.The driver side mount seemed to be twisted but there is no sign of the sheetmetal reinforcements having any damage. Pulling the driver side seemed to put some stress on the firewall. How ever much I moved the mounting flange is how much the firewall bowed. I decided to line up as much as possible without the driver side mounting bolts. The passenger side mounted up 100 % floor pan, inner sill, transmission cover, and front body mounts. The driver side is almost that good, There are a couple of holes in the floor pan that will need to be stretched. The stamping of the driver side is not as good as the passenger side. Inner sills line up, transmission cover is ok but the body mounts are what is off.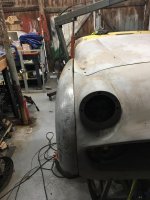 Passenger side body panels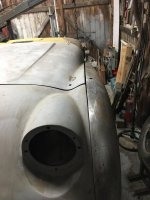 Driver side body panels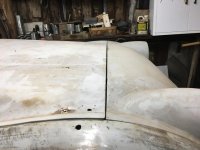 Front bonnet , apron alignment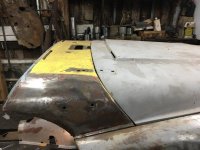 Rear bonnet , scuttle alignment
The wings and apron have only a few bolts , the bonnet is just sitting in place. All of the body panels will need repairs and adjustments.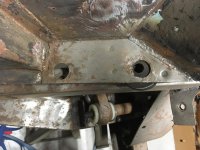 This is the mis alignment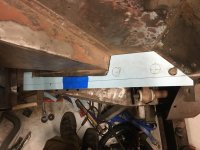 This is the template for the repair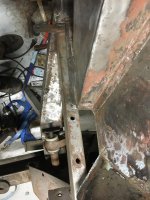 Body mount flange removed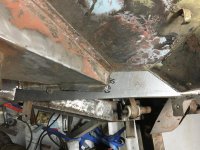 Body mount repair flange.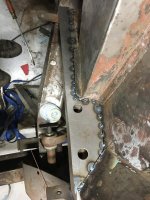 Body mount flange tacked in place.
Body mount welded and trimmed.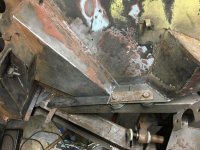 Body mount finished with mounting pads as per the service manual.
I don't know if this was a good decision but this way I only had one battle to fight. If down the road it is a problem I can easily cut off what I added and move the holes back to where they were. Frank