I just got my carbs back from having new throttle bushing installed.
Ready to do a tune up.
I ran the following questions by a very competent Healey guy yesterday and thought I'd run this by the forum, just in case someone else had/has this same situation.
I removed 6 spark plugs yesterday to find they are all black, which I understand means it's running rich.
(Not sure if that's related to a possible vacuum leak or if I tuned them too rich. I can cross off throttle shaft leak from here on out.)
I found oil on plugs 4,3,2... thread only, not the tips.
I did a compression test. (6)145 (5)140 (4)140 (3)145 (2)130 (1)148
Should I be concerned about 130 pounds of compression on #2? Why is that?
Why do I have oil on the threads of plugs 4,3,2.
I've never had any luck getting as an even a pressure flow out of the left exhaust pipe as I do with the right (facing the rear of the car).
The left exhaust pipe connects to the front carburetor.
Which cylinders are for the front carburetor?
I understand when you adjust one carb it affect the other. I'm assuming because I can't get a smooth pressure out of the left pipe it's related to the front carb?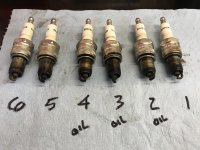 Last edited: