Bugeye bodywork up-date
Below are a few pics of my bugeye. The bodywork is going on in earnest now, and I may have the car back in a month or so. The DPO had for some reason cut a long narrow hole in the rear cowling. It wasn't big enough or regular enough to be a trunk lid. To fix it, it was necessary to make the hole a nice rectangular shape and then use an English wheel to make a replacement panel. To provide support and shape, the metal rod shown will be welding underneath the patch.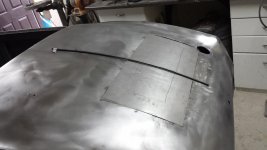 The floor pans were pretty bad, so they were completely replaced. Below you can see the car halfway through the process (one side replaced).