Apologies if this has been discussed before. I searched first but didn't find the answers.
I'm rebuilding my BT7 engine and have some questions regarding gallery plug replacement.
I'm ordering replacements for the 9 cupped plugs on the block from Moss. However, there are lots of other plugs on the engine that Moss does not offer replacements for. I'm wondering 1) Do I need to remove and replace these plugs, and 2) if so, where do I get them? Plugs specifically I'm asking about are photographed here. I will try to describe their location.
1) First image is of the brass plugs at the top of the block. I believe that these are plugs for the coolant passages and there is no reason to R&R them during a rebuild. Would like feedback. If they do need to be removed, where can I get replacements?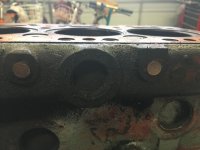 2) Second and third images are cupped brass plugs either either end of the main oil gallery. I assume that I want to remove these to facilitate cleaning the block after it has been machined. I don't see these parts in the Moss catalog. Any suggestion where to get replacements?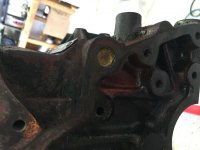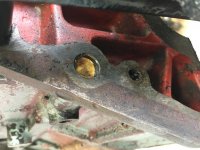 3) Fourth picture is a large brass plug that is in the top portion housing where the distributor oil drilings are. I'm guessing I can drill and tap this and pull it with a slide hammer, but is there any reason to do so? It seems like I can get the passage clean through the other two drillings, but maybe I'm missing something. If I should pull this, where can I get a replacement?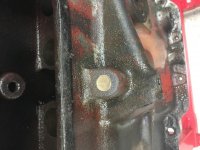 4) Fifth picture is the brass plug that intersects the drilling for the hydraulic tensioner. This one is pretty little. It is also possible to drill, tap, and slide hammer out? Is this necessary in order to thoroughly clean the passage? I'm guessing the answer is yes. Like the others, if I need to replace this, please let me know where I can get another one.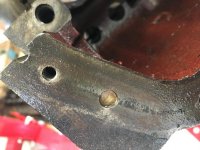 5) Last picture is a photo of my block, behind the front cover, in the region of the cam bearing / lifters. As you can see, there is a hole in the block here. To me, it does not look like it is supposed to be there. It looks like this area should be solid, but a casting defect or something similar has left an irregular hole there. I think that if there is supposed to be a hole, it should have been machined. If there is not supposed to be a hole, this should be drilled out and plugged. Can anyone give any insight into this?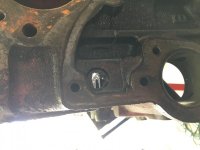 Thanks as always for the advice.
Rob
Last edited by a moderator: