a while back i made a cap out of some metal to go at the top of the radiator to keep hot air from recirculating around it. i was never really happy with it because i wondered about it restricting air in to the top of the core as well.
so last week i began looking for another way to seal off the top. it probably has been done before but i have not seen it so i thought i would share. who knows it might work and it is not complicated at all.
first i made extensions to the original air deflectors that came up to the top tank. since i was not real sure of the hood position i left a little room and then added a piece of trunk seal on top. here are a couple of pictures. first one shows a trial piece and the second shows the piece attached with a rivet.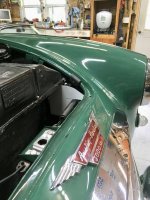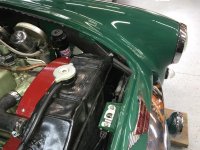 Now this seemed to seal the ends of the radiator but i still had an issue with air coming over the top. So i found a larger piece of trunk seal (yes i keep everything) in a box and added it to the hood. this seal is about 7/8" to the tip of that bead. the idea here is when i close the hood, it sits up against the front of the radiator top tank and seals off the top. from under the car you can see the ends actually hit my side seals. i also put the trunk seal on those 4" edges of the hood which puts them over the top of the radiator. not sure that does any good but at the time i thought it looked better. anyway with the hood down and the car idling you can feel quite a bit of air being pushed out of the hood grill. that should be a good thing. a couple of picturs of that.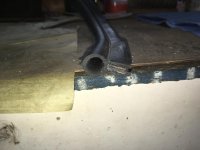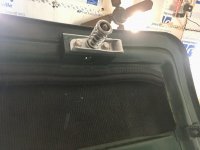 could not get my finished picture to load so the second one is when i was first pushing the seal on. with this seal i want to leave it just a little off being pushed up tight so it hits the tank. i am looking for another seal that will fill the distance and be tight. but for now, this will work.
hope this can help someone who is no more a metal worker or painter than i am.