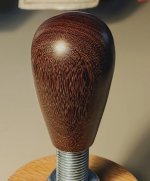 Brown Ebony Custom Shift Knob
Cardinal Type VI
1.5" x 2.5"
~60 grams
The wood is a beautiful deep brown with black figure. Ebonys take a high natural finish and this knob is lightly waxed. It can be adapted to fit many different threaded shift levers includng most cars represented on this board.
This is the last piece in my stocks and kiln dried wood of this species is hard to find.
Other woods are available and I accept special/custom orders.
$75 + $8 s&h - continental US only. Overseas interest, please inquire.