pretty much finished up the front suspension today with mounting the hubs. All went pretty well.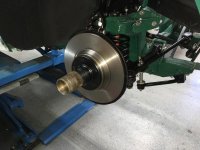 Tomorrow i plan to start on the front calipers and then running the rest of the brake lines. couple of questions:
1) the parts pictures show what they call "distance pieces" (#36 on the Moss Master cylinder page) for the master cylinders. i have new M/C's for both the brakes and clutch. But when i pulled my old M/C's off, only the clutch had the pieces there. are they required for both? and their purpose?
2) i have also read about shims to center the calipers on the rotor. but they do not show up on Moss. anyone use anything else for this? are these usually pretty close? i did not pull my calipers off but i do not see anything that looks like shims in any of the boxes. probably got tossed at some point years ago. but if i need them, i may as well do it while i am here.
Thanks