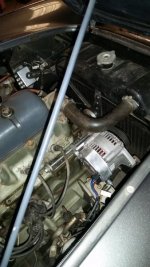 I have finally gotten around to installing an alternator in my BN2. I am loath to install something like this if it uses an alternator that I would not be able to get within a day from any auto parts store I might coast into.
It also is much easier if it is a small diameter unit. This one is 65AMPs and it is a 3 wire installation so the charging light also operates as normal.
This is an Auto Zone cross referenced alternator that is the replacement part for an 1987 Suzuki Samurai. Nippon Denso was the OEM but this is the Auto Zone equivalent. I did have to order a custom pulley to accommodate the wide belt and I use a cogged Napa Auto Parts belt that is available anywhere. I had to trim a support for the alternator that came from something else (it was lying around my shop for years and when the support for the generator I removed was the wrong shape I remembered I had it. Despite what my wife says, you absolutely have to keep stuff like that). The pulley obviously has to be kept if I ever have to replace the alternator.
Although I purchased a Dennis Welch 4 cylinder mount bracket that is designed for a Lucas alternator, I found it worked much better if I used the original bracket. I only had to hog out a small portion of the lip to allow the alternator to adjust downward a bit more to tension the belt properly. You can see it if you zoom in on the photo. The alignment for the belt was perfect. Hard to believe but so. Last, I am shamed to say I can no longer boast that I have nothing that falls into the "electronic" category in the car. I installed a small digital volt meter to keep an eye on things. One long trip so far and I am pleased.