I got a few comments on my Bugeye Shirt. Always a story about a British Car experience to be told.
Most can relate to Miata's and to MGB's, Sprites and Bugeyes. But for Miata guys the MGB is the direct link.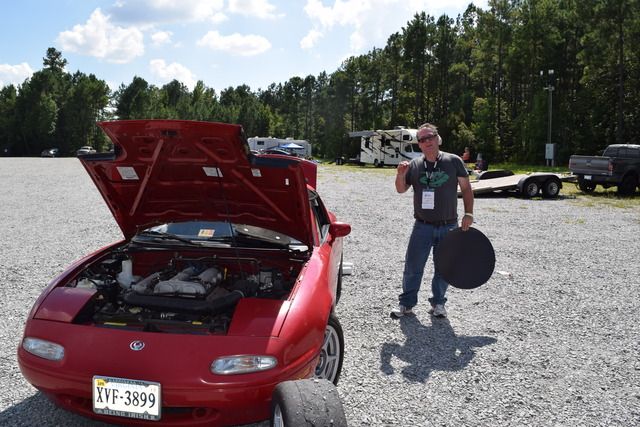 PG13 Racing at it's finest.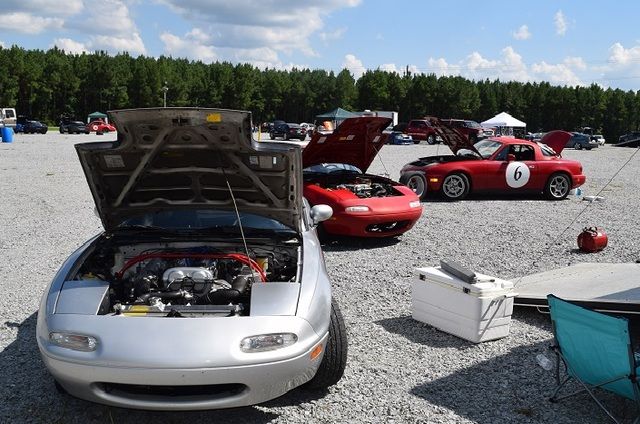 The Miata has lived with its sibling since around 2006.
The Bugeye is sitting in primer in the background.
When I talk to my fellow car guys about why I love BMC and English Cars, it doesn't take long for them to realize if they didn't already know that their Miata's exist because of this very car. I do believe that Mazda took everything great about an MG and was able to capture at least the essence of a 1963 MGB. I seem to remember stories about them trying to mimic the exhaust, much like other companies have tried to with the Harley Potato Thumps.
Driving them is like coming from different worlds. It is more like comparing apples to oranges, they kind of are the same but very different. Going fast in a Bugyeye or MG doesn't seem to be the point. Being seen and showing off a 56 year old piece of art is what I enjoy with them. When you go to Vintage Races and you see someone thrashing a BMC, they have all my respect. At the event this weekend, I will tell you that on a straight away, I was passed by about every make and model. With a 130hp, I was good for about 90 on the long straight away. I gave up at least a 100hp to over 400hp to everything in my group; however, unlike them when driving a Buyeye/MG I was the one controlling it. The all wheel drive cars are unbelievable. The Mustangs, GTO's and Vette's can haul, most have at least some kind of traction control. They are a handful in the curves with all that power, but the Miata's can hold it together and like someone that can drive the heck out of a old British Car it can be a beautiful thing to watch. A lot of the people we talked to have worked up to the faster cars and almost to a person they said they wish for the simplicity, light weight and cheap parts of a Miata. Kind of sounds like someone looking back at Bugeyes.
PS Big Meatballs indicated big speed.