The "Southern Gathering of the Faithful" is one of the largest and most important gatherings of MGs in the Southeast. Over a hundred MGs and 250 enthusiasts will participate.
Friday April 17 through Sunday April 19, 2020
The Mission Inn Resort & Club
10400 FL-48
Howey-In-The-Hills, FL 34737
Information, schedule, registration, and resort sleeping rooms on website
http://www.gofsouth.org/
Total MG emersion:
Two rallyes on Old Florida back roads. Hands-on tech sessions by nationally known experts. Two car shows with awards. Fashion show. Banquet and Meet & Greet reception. Shopping in quaint towns. "Buddy-help" with car problems all weekend. And of course, new and long-time MG friendships that you will treasure for life.
April weather in Florida is the best of the entire year. GOF-South is centrally located to all regions of Florida, and about three hours' drive from the FL-GA state line. For Northeast visitors, the Amtrak Auto Train station is only 35 miles from the resort.
If you've never come to a GOF-South, now is the time to do so.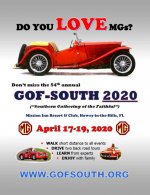 Lonnie Cook
Co-chairman
GOF-South Mk LIV
gofsouth2020@gmail.com
>>UPDATE <<
Like many car events around the world, GOF-South 2020 has been canceled because of the COVID-19 pandemic. Everyone is anticipating the day that we can enjoy our car-friends and our passion.
Last edited: