The 2018 version of the 24 Hours of Lemons ran last weekend at BMP in Birmingham. British cars were definitely in the minority, 2 out of 78. I didn't make the second half on Sunday, so I don't know who won. There was an extremely well prepared Cadillac Seville from the mid 80's, an Acura, and two BMW's that were the class of the field. The 64 Ranchero and Volvo 242 just kept motoring. Unfortunately, there were no "extremely wild" builds. With 78 cars taking the green flag, it was an interesting mix of racing styles.
The spitfire - spent as much time in the paddock as on the track, but they were having fun.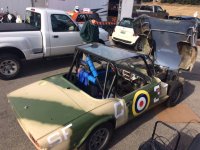 I never saw the TR8 on the track.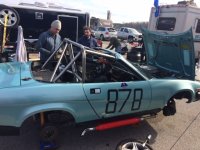 Last edited: