All,
I have just removed the steering rack for service.
Boots are original, 44 years old.
I was thinking replace just because.... yet... them seem perfect.
No marks, cracks, and still very elastic... is this a case where the originals are better then what is available new?
Just put them back on? they are inexpensive, that is not the issue, just wondering about quality...
Any one have any insight?
Regards,
Stephen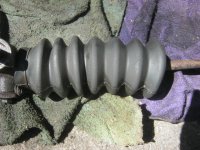 PS: and in case any one is wondering, the outboard edge is 3 3/8" from the inboard side of the tie-rod nut.
...seems to be a good installation dimension for longevity, (44 years).
76 TR6 CF15584U