Introducing "Mrs. Peel" – a 1976 Triumph Spitfire with a secret ….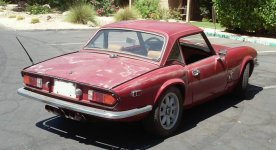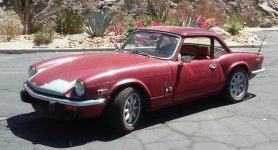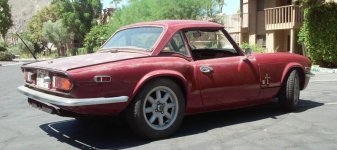 Beneath this lovely girl's faded, factory-matching carmine-red skin beats the sinewy heart of a thoroughbred. Several years ago, Mrs. Peel's anemic, 1950s-era, push-rod motor gave out and, after a bit of research, I hired something of a not-so-mad scientist (actually one heck of a trained mechanic and automotive engineer) to transplant a 1993 Mazda Miata 1.8L DOHC engine and five-speed in its place.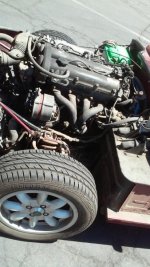 Prior to giving him the go-ahead, I imposed two non-negotiable conditions: 1) The engine had to fit under the hood with no exterior modifications, and 2) the shift lever needed to remain in its stock location. As far as I know, Mrs. Peel is the only such transplant recipient to have achieved both of these benchmarks (in similar transplants, the shifter typically ends up 8-10 inches to the rear, right next to the driver's hip). Meanwhile, the mass of the engine actually sits further back compared to stock, improving front-rear balance.



The motor fits nicely under the hood thanks to some well-engineered tweaking of a welded-and-reinforced firewall and a re-sectioned frame that retains its factory rigidity. The new motor is also lighter than the original four-banger and puts out significantly more than twice the stock horsepower and torque. The shift lever -- now attached to a genuine, fully sychro'd five-speed -- is right at hand where it's supposed to be, and changes gears far more smoothly and positively than the original factory linkage.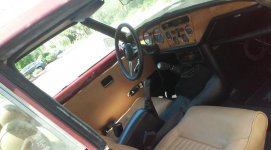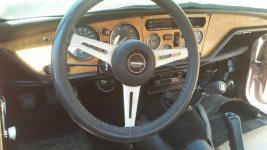 Oh, and I had the flywheel resurfaced and replaced the clutch, pressure plate and associated items in concert with the transplant (silly not to do so when everything's at hand.) The whole setup has significantly less than 2,000 miles on it
The end result is a stock-looking, 40-year-old LBC that doesn't mbarrasses itself off the line against a '90s minivan and lets you downshift to your heart's content. And, because it's all hooked up to the stock Spitfire 1500 rear end (via a custom driveshaft), the car behaves like a normal LBC (with quite a bit more power).



The cooling system also works brilliantly thanks to the higher-capacity iata radiator with twin electric fans. I've recently moved from Honolulu to the Palm Springs area and the temp needle barely goes past the halfway mark when waiting for a light in 110+ degree weather and remains well below the halfway mark in normal driving. Meanwhile, when I picked up Mrs. Peel from the shipper in San Diego and drove her to Palm Springs, we were doing 70 to 80 mph most of the way, and she performed without a hiccup. Very solid and confident on the freeway, and the needle stayed comfortably at the 3/8ths mark.


Speaking of instruments, Mrs. Peel is outfitted with the stock Smith's speedometer, tach, fuel and temp gauges, plus matching oil-pressure and volt gauges from a TR6 that look right at home in a beautiful, custom-designed, koa-wood dash. It truly looks like it came from the factory this way. The only issue is that the dash needs its lacquer finish renewed (some cracking of the clear finish – the underlying wood is undamaged). All the gauges work normally except for the tachometer, which I'm told is lacking a simple, two-wire connection to one of the coils and to ground. Finally, I have no way of confirming this directly, but the speedometer seems to be fairly accurate, assuming other cars driving next to me are obeying posted limits.


Apart from those minor issues, the car fires right up every time and is VERY road-worthy. The suspension – totally rebuilt about 15 years ago on front coil springs shortened by a previous owner – remains solid. The brakes are strong and linear, although I imagine the rear drums may need to be adjusted. Steering is quick, solid and linear (and I think my mechanic replaced the tie-rod ends at some point). Above all, I very much like the lowered stance, with cut springs in the front and a lowering block fitted to the rear transverse leaf spring.


Tires and wheels are in great shape. Mrs. Peel rides on a set of period-correct aluminum Minilite replicas that are a taller and wider than stock. These are wrapped by a matching set of proper plus-one, H-rated 185/60-14 tires with less than 2,000 miles on them.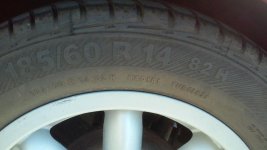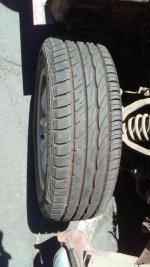 In the back, exhaust is handled by a period-correct, four-outlet Pacesetter exhaust. The chrome outlets have some pitting if you look closely but the muffler assembly is otherwise in great shape. As I recall, my mechanic included the Miata catalytic convert in the exhaust system.


What the car needs …


Exterior: I had initially thought I would have any bodywork issues addressed and the car re-sprayed before I put Mrs. Peel up for sale. Then I decided a buyer might want to go with a different color, which pretty easy to do on a simple car like a Spitfire.
If you remove the headlight covers, front spoiler, bumpers, tail-light and side-marker lenses, door handles, and just a few trim pieces, any competent paint shop can set you up with a factory-looking respray at a budget price (i.e. they have virtually no masking that needs to be done). Then, once you get the car back home, you can re-install any old and new pieces in a single afternoon and the car will look showroom new with no over-spray or masking errors. This is what I did when I refurbished the car 16 years ago and it came out looking **** near showroom.


That said, Mrs. Peel's body remains in very good shape. The only significant rust issue is at the front of the rocker panel behind the right front wheel (see picture) and slightly above in the same area hidden behind the side panel of the clamshell hood. The driver's side has no such issue.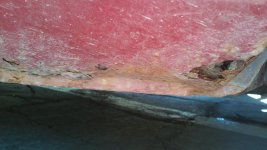 A good welder can probably fix this in an hour or so – worst-case scenario would be to replace the entire outer sill, which is available online for a little over $100. There's also a smattering of surface rust in both foot wells but the underlying sheet metal is solid. A bit of elbow grease, some sand paper and rust converter are all you'll need to ensure years of solid floors.


Elsewhere, before personal issues prevented him from completing the project, my mechanic slightly dented the front of the hood as he was pushing the car around in his shop. Any competent body shop can handle this as part of a fresh respray. Apart from that, the car has never been in an accident in the 16 years I've owned it, and my mechanic would have let me know if he came across evidence of previous damage during the transplant process.


The factory hard-top also needs a respray as well as seals and a new head liner. Not something you have to do right away, especially if that top is going to remain in storage. But it's a nice piece to have even if you never put it back on the car. These factory tops are rare (and cool looking) and increase the value of a classic British sports car.


The soft top hasn't been attached for years and probably needs to be replaced. I have the other soft covers: regular boot cover for when the soft top is down (black), boot cover used with hard top installed (tan) and tonneau cover (black), all of which are vinyl and remain in good-but-not-concours shape.
Interior: If you're just looking for a fun driver, the interior is mostly complete and just needs a good cleaning and some minor fixes. The seats have no tears or blemishes, and the foam is still firm. However, if I was going to keep the car and had a garage to work in, I'd do it right and invest in a full interior restoration, with factory seat covers, cushions, door panels and other coverings, and a fitted carpet set (I did this job myself 16 years ago and it came out beautifully). I'd also pull apart the dashboard, restore the lacquer coat on the koa dash and replace the dash top.

You can probably get everything back to showroom condition for a bit over two grand and some elbow grease.

I'd also relocate the relay/fuse assembly (currently attached to the passenger kick panel) and ECU (bolted to the parcel shelf behind the passenger seat) to the trunk. The trunk is fully carpeted with a flat floor (sans spare tire) but needs a carpeted panel to cover the gas tank and electric fuel pump (if I were keeping the car, I'd attach the ECU and relay/fuse assembly to this panel).


Mechanical: The engine runs very smoothly at speed but the idle is uneven and I don't think gas mileage is where it should be. Engine management probably needs to be diagnosed by a Miata specialist to get it back to factory specs. Apart from that, the turn signal stalk is a little wonky and should be replaced; the radio isn't hooked up; the interior fan isn't working (probably a loose wire); and the car has no windshield washer setup.


All the lights work properly, although the passenger-side backup lens needs to be replaced. The gas tank was acid cleaned and re-sealed in May, but I apparently didn't install the new fuel-level float correctly and the gas gauge is showing a half-tank when it's actually almost empty.
The single, external electric fuel pump installed in the trunk was replaced about five months ago and works property but is louder than I would expect (I installed this myself after servicing the tank). At one point there seemed to be a voltage leak associated with the pump so I had a switch installed on the floor next to the driver's seat – not sure if the voltage leak is still an issue but switch continues to serve as a nice theft deterrent.
The rubber window strip moldings at the top of both doors are rotted and need replacement, and the exterior passenger-side door handle isn't working (probably a loose connection inside the door, as the interior handle works just fine). Oh, and the driver's door brake is missing and needs to be replaced.
I'm sure there are other minor things that need to be addressed, but she's a good, solid driver with tons of potential as a weekend toy or possible show car.
Why I'm selling her …

I really love this car and very much wish I could keep her for as long I'm able to drive her. But I'm faced with two problems: The minor issue is, I no longer have a garage in which to properly maintain her. But the deal breaker is that I now live in California … and the Miata-engine transplant means I have to meet an exceedingly complex and costly set of compliance issues before I can ever hope to get her registered. At this point in my life, I'm just not willing to jump through that many hoops.


So I am reluctantly selling Mrs. Peel, and very much hope she'll find a home with a fellow enthusiast who can finish the job I started in 2002 and enjoy her for decades to come.


Hawaii title is clear and plates are good through September.




BEST OFFER (but keep in mind I'm not desperate and will store her if necessary). Thanks for looking!