Welcome to my website!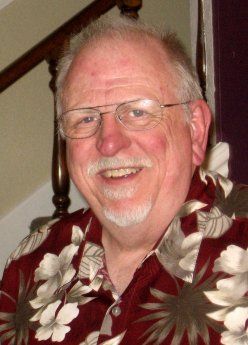 Hi! I am Bob Muenchausen and I enjoy MGs. I have had a lot of fun with British sports cars since the mid-1960's when I purchased my first, a 1961 Triumph TR-3A. The TR was little more than a hot rodded buckboard, but it opened my eyes to the world of sports cars and that driving did not have to be just a daily commute, but could, at times be fun and sometimes, an adventure or a thrill. Working on these cars also taught me a lot about how cars work, and how to work on them, and even a bit of humility. Some things, like understanding SU carbs have taken a long time for the "Ah-Ha!" light to come on, and others came easily by simply applying knowledges gained at many different jobs and from many different courses of study, not all of which were originally on my short list of things to learn or seemed all that related to cars sometimes.

However, the most useful thing I have probably learned is that there are many ways to approach a problem and that the best is with an open mind. No one has a corner on the market of MG knowledge or insight, and once we realize that, it becomes possible to draw from many sources and to use many differing means and methods to accomplish a given end. Certainly, not all work equally well. But then again, sometimes we are led to discover something better suited to our purposes than what we and others have always done or used.

The technology of automobiles continues to move on, and I don't always see a need to ignore its progress, just for the sake of originality. And altho that can put my thoughts here at odds with some purists, I mean them no disrespect. They too serve a purpose in our hobby, by allowing us a look at the origins of our MGs and at what the engineers and designers originally intended.

But even those same engineers and designers took advantage of the changing technology of their times, knowing that the cars they were going to build were a reflection of what seemed to them the best practices of their day. In my opinion, that is all that those who often choose to modify/modernize their MGs are trying to accomplish as we keep our cars moving forward through time. And I guess that all of us who drive these cars, regardless our point of view, must be doing that to the unique benefit of the marque, because I still see so many more MGs on the road and at shows, than just about any other cars of their vintage.

A little history....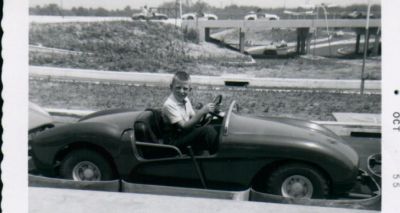 A MUCH younger Bob Muenchausen driving one of the original Disneyland Autopia cars around the Tomorrowland track back in Oct. 1955. Altho a bit restrictive of every kid's instinct to floor the gas and go, it still provided the fodder of dreams, and it would not surprise me if the shape of these Autopia cars wasn't inspired by cars like the MGA (the resemblance is striking), and perhaps was in turn the inspiration for young bucks like myself to eventually buy something resembling those dream cars we spent our E-tickets on so willingly at the age of 9.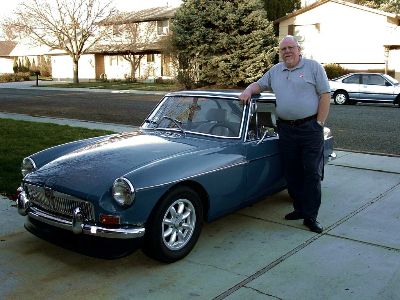 This is my remaining MG, my 1968 MGB GT. I purchased this beast back in the fall of 1986 with, I guess, the intention of recapturing a part of my youth (I was 40 then) or at least reclaiming a part of my identity. People like myself who grew up in Southern California have always had a strong sense of identity with our cars. Being born into that millieu back in 1946, the sight of XK Jags, Austin-Healeys, Alfa-Romeos, Ferraris, and MG T series cars was common place and taken as a given in our concept of the automotive world. Even as my son has never known a day that there wasn't MTV, I have not really known a day without sportscars. Altho I also grew up in Oklahoma (5yrs) and North Carolina (2 yrs), my family moved back to Southern California in the early 60s, just in time for me to get a drivers license, and to become another car junky in a car crazy corner of the world. People who live in California today may have second thoughts about our affair with the automobile, and its impact on the environment and the culture there. But I think we all expressed ourselves through our cars, no matter what type they were, and the diversity of that expression was far different from most anywhere else on the planet at that time.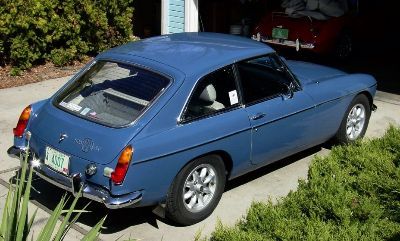 It took two and a half years to bring this car back to something like its original "glory", and that was a great experience. Like every other MGB owner who has reclaimed a car by restoration, I learned a lot, not only about the car and the company's history, but about mechanics, bodywork, and many other skills necessary to do the work in my own garage. And, like many others, I think I learned just a little about myself as well. I suppose that might be why I bought this car back after selling it in the early 90s, because I had so much of myself invested in it. It was no longer simply a machine I had refurbished, but a companion on journeys that were both physical and spiritual. A thread in the weave of continuity in life and milepost marking what I may have accomplished, once upon a time.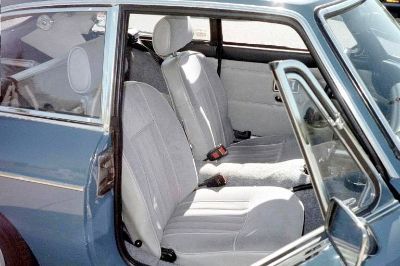 I decided that this car was going to be my daily driver, and should be comfortable, as I saw fit. When I redid my interior, I chose the services of our best upholstery shop, one with consistently excellent work, often shown at the local rod and custom shows. I chose a light gray color with black trim to work with the black dash. The vinyl used on the C-pillars, the hatch hinge cover, the upper side rails, and the headliner was an off white instead of the OE grey, hoping to give a somewhat lighter and airier feel to the interior. The choice of a very hard wearing sueded nylon cloth seat facings with matching marine grade vinyl surrounds and panels has been well worth the money spent (actually less than a leather Moss kit). Marine grade materials has made all the difference in the longevity of the seats, especially the drivers, which has taken 15 yrs of my ample frame with only two small wear areas in that time. Marine grade material has the advantage of higher UV protection (and other properties), resisting rot much better than the usual auto grade materials. Carpeting is simply outdoor carpet I have installed myself, and the light gray carpet you see here is in reality the second carpeting since restoration, the first iteration having needed replacement after about 10 yrs.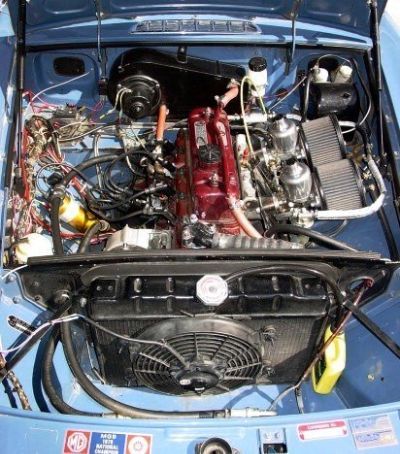 I suspect that what you see in this photo of the engine compartment is less a testament to my prowess as an MGB tuner, but more a moment in time of a continuing process of experimentation and implementation of various ideas that I either borrowed from others or wanted to test against my own concepts of how to skin the MG cat. I have never had the resources to go too deeply, but there are incremental improvements and changes that a person of limited means can do, and these are what I pursued. Things like installing relays for the headlights, relays for the turn signals (to extend the life of the turnsignal switch), a modified and then an alternative heater valve, and an alternative alternator for better performance not only in winter, but in the electrical system all year long. There are many other, odd, strange, or simply different things this car has been the test bed for, and on these pages you will find those that have proven most successful. The car is ever evolving and frankly, I think that is what the MG marque has always inspired many owners to do ~ to move the car along and, as they say, to try to improve the breed.

To that end, I am also including Misc. MG Related links to unique sites that I think many MG owners might find interesting in their pursuit of their MGB experience.With this new site, I have created a replacement for previous well used, well visited pages which many MG owners have found helpful in getting the most out of their cars. I hope that you will find the content worthwhile and perhaps find something which helps you better understand and enjoy your MG. You may not want to do some of the things I have to your car, but I offer up this information to give those who want them some alternatives from newer technology or a different philosophy of what can be done with these cars and their components, and what can be expected from them.

At present, this web site is always under construction. As time goes by, I hope to add other information to this site, and if you have any suggestions, please drop me an email to bobmunch64@yahoo.com .

Visitors are encouraged to show us you location and perhaps a photo and comment about yourself at our Frappr map site, http://www.frappr.com/muenchausensgarage . It is just a fun way see how we are all distributed around the globe.

I appreciate your participation at our map site and your feedback about this site is the best way for me to improve it. Thanks!