Great lighting! Photographing black animals can be a challenge - with that lighting you nailed it.
Thanks. But I fear we've lost Fred. He was a no-show this AM, nowhere to be seen all day today. Not at all his nature. I suspect human misdeed but will likely never know. And if that's so, whoever is responsible should hope I never find out.
This trio came around as adults, wouldn't abide indoor confinement well at all. We've tried. When that hurricane was coming and Mitsy was INSISTENT we leave the hovel, I confined the three inside. On our return found they'd clawed the doorjambs to shreds, ripped thru the magazines left out, tossed the place like burglars had been here. All-in-all very impressive attempts at escape! The only encouraging sign was they'd availed themselves of the litter boxes I'd put out. Burglars with neat bathroom habits at least.
Oh my. Most of our kittys have been raised as kittens. The one remaining we currently have is Blue and she was let in on a cold winter morning when she was out on the back porch crying. We opened the door and in she ran. We were a little concerned about how she would react to the Husky, but as it turns out they both get along great. Blue has never had a proclivity for wanting to go outside. Maybe she was brought indoors at a young enough age?
I've had many cats, all but one from young kittens. They were all indoors and lived well into their late teens. The exception was a female "tuxedo" coated one a downstairs couple had and named Little Kitty. She was exceptional. That was in Pennsylvania. when the couple decided to move to California they left her in our care. Well domesticated, she could come and go as she pleased up there. When we moved here she had to come with us, flying down in the seat between us on a "child fare" in a carrier... until we were airborne, anyway. After the relocation her outside time was only in a harness, tethered in the yard. She didn't mind it at all. She spent her later life indoors with no problem, she also lived to almost twenty.

When a cat is brought into the house as a weeks-old one they adapt to indoor life. These current ones do not put up with anything of the kind. It's a dilemma. I'm convinced Fred has become the victim of vindictive foul play due to his early upbringing. Gentile and trusting but not willing to be confined indoors. I hope I'm mistaken.
I won't write off Fred for a while. My previous cat Mina went on walk-a-bout from the people she stayed with before me. After she left, the people had to move to a new apartment a couple miles away. Six months later, they opened the door and there was Mina. She had tracked them down I'm guessing from scent on the breeze.
That's my hope, but after the five or so years the trio has been here he's never missed a meal. Biggest concern is he's out somewhere hurting. The not knowing is hateful.
When our dear Siamese girl Kahlua passed at fifteen, I swore: "NO MORE CATS!" Cleared up the feeding area, got rid of the litter box and all toys, etc. It wasn't two days before these three were coming around, skinny and hungry. Abandoned with a house about to be going into foreclosure nearby. I couldn't ignore their plight, knew the circumstance. They became "our cats" by default. Can't help myself.
A long time ago a friend said: "If I die suddenly, I want to be reincarnated as one of YOUR cats!"
Not a whisker to be found. I'd combed the area the day he didn't show for breakfast with no joy, expanded the search later. He'd no fear of kids or others who would give him a gesture of friendship or petting. Very gentile nature. I'm convinced it's a case of "murder most foul."
He and Lucy were close, I'm sure they either came from the same litter or were raised together from infancy. He was a homebody, kept to a hundred-yard radius. Lucy now "patrols" the area, certainly looking for him. She sits a lot on the front door mat, looking around without leaving. Heartbreaking to watch.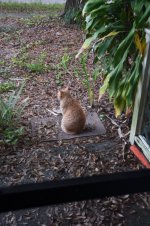 Been bringing the girls in overnight now out of caution. Ethel settles in without much fuss, Lucy is a completely different story. She has slept in bed overnight a few times, but lately she really wants to be outside. Starts "digging" at the back door glass, pacing or running through the place as she "mumbles and grumbles" her displeasure at the confinement. She spent last night outdoors for the first time since Fred went missing, thankfully was at the garage door this AM for breakfast. After that she had to go back out.
Last edited:
Also, would it be worth checking the local Animal Control facility?
Yes to that, especially since he doesn't have a collar.